Revenue Enhancement and Cost Containment at Radio Stations
Overview
Taken from the 2016 Radio Show, discover some of the best practices for revenue enhancement and cost containment in major, medium and small market radio. Hear directly from three forward-thinking broadcast managers from around the country. What do they invest in? Where have they stopped spending? How do they ensure continued success? All this and more make up a three-pack of informative presentations.
Presenter:
Beth Mann, President/CEO, WKDZ Radio
Presenter:
Joel Oxley, Senior Regional Vice President and Market Manager, Hubbard Radio
Presenter:
Ben Reed, Vice President/Market Manager, Cox Media Group San Antonio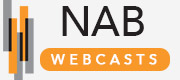 WEBCAST LOG IN
If you have already registered for the webcasts, click the button below to log in.
LOG IN TO VIEW WEBCAST
TECHNICAL INFORMATION
NAB makes every effort to deliver high quality streaming video. There are some cases where the stream may not work and you will experience buffering issues. If you experience such issues, click here for technical troubleshooting tips.
It is strongly recommended that participants attempt to log in to the webcast at least 15 to 30 minutes prior to the webcast to test your connection.
For further technical assistance, please contact (202) 775-3510 or jmiely@nab.org.