Television Chairman's Award
Past Award Recipients
2018 Honoree - Kristen Bell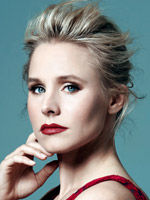 Television and film actress Kristen Bell received the NAB Television Chairman's Award during the new NAB: We Are Broadcasters Celebration, April 10 at the 2018 NAB Show in Las Vegas.
Bell currently stars as Eleanor Shellstrop in the hit NBC series "The Good Place," which was recently renewed for a third season. She will also star in the Netflix comedy "Like Father" and lend her voice to the animated film "Teen Titans Go! to the Movies," both of which will be released this year. Additionally, Bell is working on the sequel to the immensely popular Disney film "Frozen," in which she is the voice of Anna. The original film has grossed over $1.2 billion worldwide, making it the highest-grossing animated film of all time.
In 2014, Bell reprised her title role in the Warner Brothers' film "Veronica Mars." She also appeared in a guest-starring arc on NBC's comedy series "Parks & Recreation." For five seasons, beginning in 2012, she starred as Jeannie Van Der Hooven in the Showtime series "House of Lies."
Mo<"Kristen Bell charms audiences with a natural mix of poise and humor that she brings to all her roles," said NAB Television Board Chairman Jordan Wertlieb. "We look forward to welcoming Ms. Bell to this year's NAB Show and honoring her with this well-deserved distinction."
Examples of additional television credits include "Unsupervised," "Deadwood," "Heroes," and "Party Down." She's also held lead roles in films like "You Again," "When in Rome," "Couples Retreat," and "Forgetting Sarah Marshall."
---
2017 Honoree - America Ferrera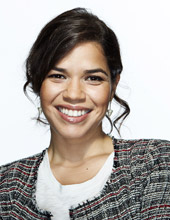 Award-winning actress and producer America Ferrera received the 2016 NAB Television Chairman's Award during the NAB Show Television Luncheon on April 24.
Ferrera is best known for her breakthrough role as Betty Suarez on ABC's comedy "Ugly Betty." She was recognized with a Golden Globe, Emmy, Screen Actors Guild Award, ALMA and Imagen Award for her performance.
Ferrera currently produces and stars as Amy in the second season of NBC's workplace comedy "Superstore." She is also a contributor in the EPIX TV mini-series "America Divided," a five-part documentary that explores inequality in education, housing, healthcare, labor, criminal justice and other related topics.
"America Ferrera is an esteemed and versatile actress who not only entertains, but brings attention to a variety of important national and global issues," said NAB Executive Vice President of Television Marcellus Alexander. "She is the embodiment of what this award represents."
Ferrera most recently appeared in Showtime's second season of the groundbreaking documentary "The Years of Living Dangerously." She is the executive producer of Refinery 29's "Behind the Headlines," a multimedia experience comprising video, text and images dedicated to humanizing the conversations around issues that matter to women.
Upcoming, she will executive produce MACRO's digital series "Gente-Fied," a dramatic comedy featuring an all-Latino cast, which premiered at the 2017 Sundance Film Festival, and "Only Girl," which is a docu-series investigating what it means to be a female in a male-dominated field, ranging from baseball players to airplane pilots.
Ferrera is a fierce advocate of both women and immigration rights, speaking about the issues at the historic Women's March on Washington, D.C., the day after the presidential inauguration, and the Democratic National Convention in Philadelphia in July 2016.
---
2016 Honoree - Keke Palmer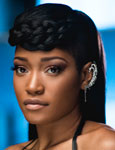 Film, television and stage actress Keke Palmer received the 2016 NAB Television Chairman's Award during the NAB Show Television Luncheon.
Palmer began her career with a breakout role in the 2006 film "Akeelah and The Bee," for which she won an NAACP Image Award. She later starred as the title character in the hit Nickelodeon series "True Jackson, VP," for which she was awarded an additional four NAACP Image Awards for Outstanding Performance in a Youth/Children's Program. She became the youngest talk show host in history with her show "Just Keke," and also made history as the first African-American Cinderella in Rodgers and Hammerstein's iconic musical on Broadway in 2015.
Most recently, Palmer starred in FOX's production of "Grease Live!" as Marty and as Zayday in the network's hit series "Scream Queens," where she will return for its second season this fall. Additionally, Palmer will reprise her role as Peaches for the fifth installment of the box office mega-hit "Ice Age: Collision Course," which opens this summer.
"From the onset of her career, Keke Palmer has broken barriers, achieved success and shown the world the true depth of her creative talent," said NAB Executive Vice President of Television Marcellus Alexander. "We are honored to present her with this year's Television Chairman's Award."
Palmer debuted her first single and music video, "Enemiez" featuring Jeremih, on March 21, from her forthcoming album for Island Records.
Palmer gives her time and resources to support various charities, including: the Boys & Girls Clubs of America; the Girl Scouts; Get Schooled; and Urban Farming programs. In addition, Palmer has worked with the Young Women Christian Association's "Saving Our Daughters" initiative, supporting the empowerment of young women across the United States.
---
2015 Honoree - Tracee Ellis Ross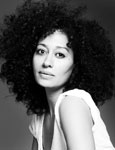 Actor, producer and motivational speaker Tracee Ellis Ross, who stars on the ABC comedy series "Black-ish," received the 2015 NAB Television Chairman's Award.
"Black-ish," which premiered in September of 2014, centers on the lives of an upper-middle-class African-American family in a predominantly white neighborhood. Ross received a 2015 NAACP Image Award in the category of Outstanding Lead Actress in a Comedy Series for her role as Dr. Rainbow "Bow" Johnson on the breakthrough comedy.
"Tracee Ellis Ross is a gifted talent who brings wit and style to the roles that she plays, most recently on ABC's breakout hit comedy 'Black-ish'," said Marcellus Alexander, NAB Executive Vice President of Television. "We are thrilled to honor her as this year's Chairman's Award recipient."
Ross received eight NAACP Image Award nominations and two wins for her role as Joan Carol Clayton in the hit sitcom "Girlfriends," which ran for eight seasons on the UPN/CW network. Ross also starred in and produced the BET series "Reed Between the Lines," which won her an additional NAACP Image Award.
Other credits include roles in ABC's "Private Practice," CBS's "CSI" and HBO's "Life Support." She has appeared in "FIVE," a collection of short films, which aired on Lifetime and in the feature films "Hanging Up" and Tyler Perry's "Daddy's Little Girls." In the fall of 2014, Ross returned to BET to co-host the popular award show "Black Girls Rock" with Regina King.
A dedicated motivational speaker, Ross created and teaches "Tapping Into Your Creative Well," a workshop that encourages participants to discover and utilize personal joy to gain more from life.
Also regarded as a fashion influencer, Ross shares her ideas on hair, beauty, style and well-being on her official website, which was launched in 2012.
Established to recognize individuals for significant achievement in one or more specific art disciplines in television, the Television Chairman's Award first debuted in 2009 with four-time Emmy and two-time Golden Globe-winning actor Kelsey Grammar as the recipient. The last recipient was Jim Parsons, Emmy nominee and star of the critically acclaimed CBS comedy series "The Big Bang Theory" in 2010.
---
2010 Honoree - Jim Parsons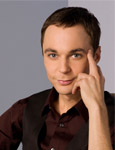 Jim Parsons, Emmy nominee and star on the critically acclaimed CBS comedy series "The Big Bang Theory," from Warner Bros. Television, received the 2010 NAB Television Chairman's Award.
Parsons has been nominated for several awards for his role as Sheldon Cooper, a highly intellectual theoretical physicist on "The Big Bang Theory," co-created by Chuck Lorre and Bill Prady. Cited as "a marvelous discovery, creating the most hysterical misfit since Monk" by TV Guide, Parsons' portrayal has earned him an Emmy nomination for Outstanding Lead Actor in a Comedy Series, a People's Choice Award nomination for Favorite TV Comedy Actor and a Television Critics Association (TCA) Award for Individual Achievement in Comedy. Additionally, "The Big Bang Theory" won the TCA Award for Outstanding Achievement in Comedy; was selected as one of the programs of the year for 2009 by the American Film Institute; and won the People's Choice Award 2010 for Favorite TV Comedy.
Parsons' other television credits have included a recurring role on the CBS show "Judging Amy" and an appearance on the NBC program "Ed." He has appeared on the big screen in Todd Phillips' "School for Scoundrels," opposite Billy Bob Thornton and Jon Heder, as well as Chris Terrio's "Heights," opposite Glenn Close and James Marsden. Parsons has also appeared in several independent films, including Zach Braff's "Garden State," Kevin Connolly's "Gardener of Eden" and Danny Leiner's "The Great New Wonderful."
With a Masters in Fine Arts from the University of San Diego's Old Globe Theater, Parsons has an extensive theater background that includes roles in the "The Castle" for the Manhattan Ensemble Theater, "The Countess" for the Globe Theater, and "The Tempest" and "As You Like It" for the Houston Shakespeare Festival.
---
2009 Honoree - Kelsey Grammer
The inaugural NAB Television Chairman's Award was presented to four-time Emmy and two-time Golden Globe-winning actor Kelsey Grammer.
Grammer has excelled at the highest level in theater, television and film as an actor, producer, executive producer and director. Best known for his two-decade portrayal of psychiatrist Dr. Frasier Crane in the classic NBC sitcoms "Cheers" (1984-1993) and its spin off "Frasier" (1993-2004), Grammer was nominated for four Emmys for playing his character on three different sitcoms with the third being a guest appearance on "Wings." Grammer is also an accomplished voice-over artist providing the voices for popular animated characters such as Sideshow Bob from "The Simpsons" and Stinky Pete the Prospector in "Toy Story 2" among others.
Grammer is executive producer of the primetime television shows "Medium" on NBC and "The Game" on The CW Network. Other recent works include "Girlfriends" on CW and "The Sketch Show" on FOX. In addition, Grammer will serve as executive producer and star of the ABC comedy pilot "Pryors."