Radio and Television Membership
One Voice – United We Are Stronger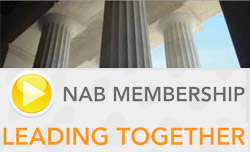 As broadcasters' voice in our nation's capital, NAB fights for policies that preserve and strengthen free, local broadcasting. But our success is not possible without the engagement of our members – united we are stronger.
By joining NAB, you are engaging in our advocacy efforts to build a strong future for the broadcasting industry. Whether it's protecting broadcast spectrum or fighting a performance tax on local radio stations, your support is vital for our success on the key issues that impact broadcasting.
NAB also provides exceptional advocacy information, cost-saving resources, networking and career development opportunities.
Working together, we will lead free, local broadcasting to an enduring and robust future for generations to come.
Commercial Stations
Submit your completed application via email or fax.
Public (Non-Commercial) Stations
Complete and email or fax us your application .
Low Power Stations
Low power radio, television and Class A stations are eligible for NAB associate membership. Click here to download your application.