Next Gen TV on the Rise: An Exploration of Recent Developments
Overview
The 2018 NAB Show provided an exciting opportunity to witness ATSC 3.0 developments in action. There were a myriad of demonstrations by different parties. Whether it was over-the-air reception in an autonomous shuttle, interactive content being delivered over-the-air, or a demonstration showing interoperability of ATSC 3.0 applications across multiple TV set manufacturers, NAB Show was a proving ground for what is possible with this new standard.
Next Gen TV on the Rise provides viewers with an overview of the ATSC 3.0-related technologies that were demonstrated at NAB Show, a discussion of the lessons learned, and a look towards what comes next.
The webcast will include discussion of the following 2018 NAB Show presentations:
Over-the-air reception of Next-Gen TV in an autonomous shuttle
Advanced ad targeting and insertion
Over-the-air interactive application delivery
Interoperability of ATSC 3.0 applications across set manufacturers
Advanced emergency alerting
Next-Gen TV testing in progress or planned
Next Gen on the Rise is the second in a quarterly series of webcasts on ATSC 3.0 intended to keep you informed about developments in Next Gen TV.
Moderator:
Skip Pizzi, Vice President, Technology Education and Outreach, NAB
Panelists:
Guy Hadland, Chief Technology Officer, UniSoft Corporation
Fiona A. James, Deputy Director, AWARN Alliance
Mark Richer, President, Advanced Television Systems Committee (ATSC)
So Vang, Vice President, Advanced Technology, NAB
More panelist announcements coming soon!
This webcast will be archived for on-demand viewing within 24 hours of airing.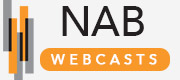 WEBCAST LOG IN
If you have already registered for the webcast, click the button below to log in.
LOG IN TO VIEW WEBCAST
TECHNICAL INFORMATION
NAB makes every effort to deliver high quality streaming video. There are some cases where the stream may not work and you will experience buffering issues. If you experience such issues, click here for technical troubleshooting tips.
It is strongly recommended that participants attempt to log in to the webcast at least 15 to 30 minutes prior to the webcast to test your connection.
For further technical assistance, please contact (202) 775-3510 or jmiely@nab.org.