Enriching the Digital Offerings at Your Radio Station
Overview
Taken from the 2016 Radio Show, this two-pack of presentations centers upon digital monetization, content curation, platform diversification and social media strategy. What do digital strategists wish GMs understood about digital? How would radio be different if it were invented after the internet? How can digital be better utilized and monetized? Watch and learn!
Presenter:
Daniel Anstandig , CEO and Co-Founder, Futuri Media
Presenter:
Angie May Yarusso, Vice President, Emmis Digital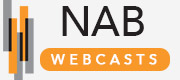 WEBCAST LOG IN
If you have already registered for the webcasts, click the button below to log in.
LOG IN TO VIEW WEBCAST
TECHNICAL INFORMATION
NAB makes every effort to deliver high quality streaming video. There are some cases where the stream may not work and you will experience buffering issues. If you experience such issues, click here for technical troubleshooting tips.
It is strongly recommended that participants attempt to log in to the webcast at least 15 to 30 minutes prior to the webcast to test your connection.
For further technical assistance, please contact (202) 775-3510 or jmiely@nab.org.