Getting Ready for the Next Political Advertising Season
Overview
Every election comes with wrinkles and new questions; the twists and turns of the American political climate mean radio and television stations should prepare for the unexpected. NAB is committed to keeping its members up to date on all industry regulations, especially political advertising. Even with tools like the PB-18, and the Political Broadcast Catechism, now in its 18th iteration already at your disposal, it never hurts to have a refresher.
Join this webcast for an update on the Federal Communication Commission's byzantine political broadcasting rules, including issues like reasonable access, equal opportunities, lowest unit charger, third party advertising, sponsorship ID and the new online public file requirements. You can also ask your own questions of the panel, live, during the webcast. The webcast will be archived on NAB's website for future access.
Our webcast will feature Bobby Baker, chief of the FCC's political programming office, and expert practitioners with experience helping radio and television stations to navigate the political broadcasting rules.
Our panel includes: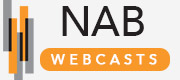 WEBCAST LOG IN
If you have already registered for the webcasts, click the button below to log in.
LOG IN TO VIEW WEBCAST
TECHNICAL INFORMATION
NAB makes every effort to deliver high quality streaming video. There are some cases where the stream may not work and you will experience buffering issues. If you experience such issues, click here for technical troubleshooting tips.
It is strongly recommended that participants attempt to log in to the webcast at least 15 to 30 minutes prior to the webcast to test your connection.
For further technical assistance, please contact (202) 429-5462 or mgeissinger@nab.org.