Upcoming Events
An Update on the 2020 Radio Show and SMTE
Our broadcasting community's wellbeing is our top priority and with that in mind and considering the circumstances of the ongoing pandemic, we have decided not to move forward with the 2020 Radio Show in Nashville as previously scheduled for September 13-16 and NAB Sales and Management Television Exchange in Louisville scheduled for September 24-25. Instead, we will produce digital events incorporating the best of what the Radio Show and SMTE has to offer.
View the Full Radio Show Announcement
View the Full SMTE Announcement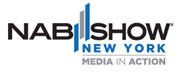 October 21 - 22, 2020 • New York, N.Y.
NAB Show New York showcases the best in next-generation technology for media and entertainment professionals with conferences, workshops and exhibits focused on television, film, satellite, streaming video, live events, podcasting, advertising, corporate A/V, production and post. Hear from the industry's biggest innovators and meet the game changers who will share their vision and solutions for success in a rapidly evolving digital landscape.
Learn More