FOR IMMEDIATE RELEASE
April 12, 2010
For NAB Show inquiries
Laura Hart
310-689-7215

Opening Session Jump-Starts World's Largest Entertainment Media and Technology Conference
--NAB Show Attendees to be Greeted by NAB President and CEO Gordon Smith, Sony Executive Hiroshi Yohioka, Michael J. Fox, and Astronauts Aboard the International Space Station--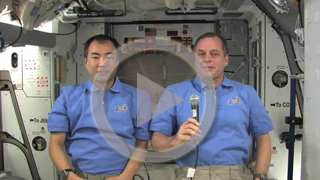 NAB Show attendees will be greeted with a welcome message from the Expedition 23 crew currently serving onboard the International Space Station. NASA astronaut Timothy J. Creamer and crewmate Soichi Noguchi sent greetings from the station, which is currently located approximately 220 miles above Earth. The NAB Show is the world's largest entertainment media technology conference and will run through April 15, 2010. Click the screenshot to view and download the video.
LAS VEGAS -- The 2010 NAB Show, the world's largest annual conference and expo for professionals who create, manage and distribute entertainment across all platforms, moves into high-gear today with a Monday morning opening session that contains a mix of thought-provoking and entertaining speakers. More than 85,000 audio, video and film content professionals from 156 countries are expected to attend the event, which runs through Thursday, April 15 in Las Vegas.
Sony Corporation's President Hiroshi Yoshioka, actor and activist Michael J. Fox, and NAB President and CEO Gordon H. Smith will address opening session attendees, who will also receive a special welcoming message from the crew aboard the International Space Station.
NASA astronaut Timothy J. Creamer and crewmate Soichi Noguchi, members of the Expedition 23 crew, will welcome attendees to the NAB Show from the International Space Station, currently located approximately 220 miles above Earth. As previously announced, the NAB Show Content Theater will feature a Tuesday session exploring how IMAX collaborated with NASA to produce "Hubble 3D."
Giving his first state of the industry address since being named president and CEO of NAB in October, Smith will discuss the legislative and regulatory challenges and opportunities broadcasters face in the digital age and NAB's advocacy efforts on behalf of radio and television broadcasters.
Sony Corporation Executive Deputy President and President of the Consumer Products & Devices Group Hiroshi Yoshioka will deliver the NAB Show opening keynote, focusing on the global and U.S. consumer demand for 3D technology as well as Sony's vision for the future of 3D. Yoshioka will also share a 3D presentation to include footage recently shot at the Masters Golf Tournament.
Michael J. Fox, the Emmy Award-winning actor and advocate for Parkinson's disease research, will be honored with the NAB Distinguished Service Award. That honor recognizes individuals who have made significant and lasting contributions to the broadcasting industry.
The NAB Show will feature more than 1500 exhibitors displaying the latest in media technology and more than 500 conference and training sessions. Other highlights of the NAB Show this week include the presentation of the NAB Television Chairman's Award to "Big Bang Theory" actor Jim Parsons, Q&A sessions with "Mad Men" creator Matthew Weiner and comic book legend Stan Lee, a keynote speech from Federal Communications Commission Chairman Julius Genachowski, and several sessions devoted to the latest advances in 3D television, and film, transmedia storytelling, social media, and augmented reality.
Video footage from various events at the 2010 NAB Show will be posted all week at www.nabshow.com. For the most recent updates, follow the NAB Show on Twitter @NABShow.
About the 2010 NAB Show
The NAB Show will take place 10-15 April, 2010 in Las Vegas (exhibits open 12 April). It is the world's largest electronic media show covering filmed entertainment and the development, management and delivery of content across all mediums. Complete details are available at www.nabshow.com.
About NAB
The National Association of Broadcasters is the premier advocacy association for America's broadcasters. NAB advances radio and television interests in legislative, regulatory and public affairs. Through advocacy, education and innovation, NAB enables broadcasters to best serve their communities, strengthen their businesses and seize new opportunities in the digital age. Learn more at www.nab.org.
###