FOR IMMEDIATE RELEASE
October 17, 2008
Celebrity Entertainers Featured in PSAs Promoting Election Education for Students
WASHINGTON, DC -- With the October 30 National Student Mock Election just around the corner, young celebrities are helping spread the word with public service announcements (PSAs), while the Mock Election's sponsors reach out to help teach the voters of tomorrow about the importance of each person's individual vote.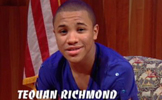 Tequan Richmond
National Mock Election partners Declare Yourself, the National Association of Broadcasters Education Foundation and the Pearson Foundation pooled their resources to engage young celebrities and produce individual PSAs for distribution via radio and television stations throughout the country. The PSAs are also available on YouTube at www.youtube.com/mockelection.
Among the talented young people sharing the importance of voting with students through public service announcements are: Teen Choice award winner Hayden Panettiere of NBC's hit drama Heroes, Everybody Hates Chris star Tequan Richmond, Adrienne Bailor from Cheetah Girls, actress Gabrielle Union, the singing group Danity Kane, MTV's Lo Bosworth, Michael Petersen from Disney's High School Musical, recording artist Kimberly Cole and Rachel Smith, Miss USA 2007.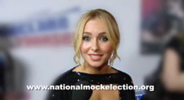 Hayden Panettiere
Additional organizations supporting NSPME include BrainPop, National Association of Secondary School Principals (NASSP), The National Association of Student Councils (NASC), National Parent Teacher Association (PTA), School Perceptions, Strong American Schools, Google and USA Today. Information on the NSPME partners can be found at www.nationalmockelection.org.
About the National Student/Parent Mock Election The NSPME is the nation's oldest, largest and most successful voter-education project, dating from 1980. Since the first Mock Election in 1980, nearly 50 million young voters have cast their ballots and, in the process, discovered what it means to be an American citizen and the value of citizenship in our democracy. Contact Gloria Kirshner at 1.800.745.8489 for additional information.
About NABEF The NAB Education Foundation is a non-profit organization dedicated to serving the public interest in supporting and advocating: education and training programs, strategies to increase diversity, initiatives stressing the importance of the First Amendment, community service, philanthropy and timely broadcasting issues.
About NAB The National Association of Broadcasters is the premier advocacy association for America's broadcasters. As the voice of more than 8,300 radio and television stations, NAB advances their interests in legislative, regulatory and public affairs. Through advocacy, education and innovation, NAB enables broadcasters to best serve their communities, strengthen their businesses and seize new opportunities in the digital age. Learn more at www.nab.org.
About Declare Yourself Declare Yourself is a nonpartisan, nonprofit campaign aiming to empower every eligible American, 18-to-29 years old, to participate in the 2008 presidential election. Through the power of strategic media partnerships, celebrity spokespeople, retail outreach, sports and most importantly, digital technology and social media, Declare Yourself has created a campaign that embraces the landscape of youth peer and popular culture with one key message: register and vote. Declare Yourself was founded by Hollywood producer Norman Lear as an extension of his Declaration of Independence Road Trip. Since 2004, Declare Yourself has registered more than two million young voters.
About the Pearson Foundation The Pearson Foundation extends Pearson's commitment to education by partnering with leading nonprofit, civic, and business organizations to provide financial, organizational, and publishing assistance across the globe. The Foundation aims to make a difference by sponsoring innovative educational programs and extending its educational expertise to help in classrooms and in local communities. The Pearson Foundation is the philanthropic arm of the international media company, Pearson - the world's leading publisher of education materials, and the home of The Penguin Group and The Financial Times Group. More information on the Pearson Foundation can be found at www.pearsonfoundation.org.