FOR IMMEDIATE RELEASE
September 17, 2008
NAB to Distribute Drunk Driving Prevention PSAs at NAB Radio Show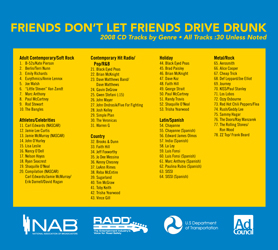 Click here to download a PDF of the CD track listing.
WASHINGTON, DC – NAB will distribute over 70 drunk driving prevention public service announcements (PSAs) featuring the landmark tagline "Friends Don't Let Friends Drive Drunk" to radio stations nationwide during The NAB Radio Show in Austin, TX. The campaign is a collaborative effort among NAB, Recording Artists, Actors and Athletes Against Drunk Driving (RADD: The Entertainment Industry's Voice for Road Safety), the U.S. Department of Transportation's National Highway Safety Administration (NHTSA), and the Ad Council encouraging people to intervene in order to prevent friends from driving drunk.
Designed to target 21- to 34-year-olds, the critical audience that represents over half of all alcohol-related fatalities, the PSAs feature a variety of celebrity entertainers categorized according to radio station format and the recording artists' primary genre. Available in both English and Spanish, the CD contains PSAs that can be aired year-round as well as holiday-specific PSAs.
In addition to distribution at The NAB Radio Show, CDs will be mailed to stations later this month. PSAs can also be downloaded online at www.nabspotcenter.org.
About NAB
The National Association of Broadcasters is the premier advocacy association for America's broadcasters. As the voice of more than 8,300 radio and television stations, NAB advances their interests in legislative, regulatory and public affairs. Through advocacy, education and innovation, NAB enables broadcasters to best serve their communities, strengthen their businesses and seize new opportunities in the digital age. Learn more at www.nab.org.
About RADD
RADD, The Entertainment Industry's Voice for Road Safety, is an internationally recognized non-profit organization that empowers celebrities and media partners to create positive attitudes about road safety. Founded in 1986, RADD advocates the use of designated drivers, seatbelts and safe driving through control behind the wheel, making responsible behavior the norm. RADD's messages are non-judgmental, hip and positive. RADD is a proud two-time recipient of the US Department of Transportation's prestigious Public Service Award.
About Ad Council
The Ad Council is a private, non-profit organization that marshals talent from the advertising and communications industries, the facilities of the media, and the resources of the business and non-profit communities to produce, distribute and promote public service campaigns on behalf of non-profit organizations and government agencies in issue areas such as improving the quality of life for children, preventive health, education, community well-being, environmental preservation and strengthening families.
About NHTSA
NHTSA is the U.S. Department of Transportation's lead agency on saving lives, preventing injuries and reducing economic costs due to road traffic crashes, through education, research, safety standards and enforcement activity. For more information, visit www.StopImpairedDriving.org.
###