FOR IMMEDIATE RELEASE
August 25, 2008
CONTACT
Dennis Wharton
202-429-5350

follow me
NAB Radio Show to Feature FCC Chairman Kevin Martin
WASHINGTON, DC --Federal Communications Commission Chairman Kevin Martin will participate in a one-on-one interview with NAB Radio Board member Russ Withers, owner of Withers Broadcasting Companies, during a breakfast session on Thursday, September 18 at The NAB Radio Show in Austin.
"One-on-One with Chairman Martin" will begin at 7:15 a.m. and be immediately followed by the Group Executives Super Session Breakfast sponsored by Liquid Compass.
As previously announced, FCC Commissioner Jonathan Adelstein will also participate in this year's NAB Radio Show. Adelstein will be interviewed by NAB Radio Board Chairman Steve Newberry, president and CEO of Commonwealth Broadcasting Corporation, during "Breakfast with the Commissioner" on Friday, September 19.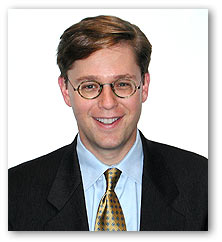 FCC Chairman Kevin Martin
President Bush appointed Martin to the FCC in 2001 and elevated him to the FCC chairmanship in 2005. Before joining the FCC, Martin was a Special Assistant to the President for Economic Policy. He served on the Bush-Cheney Transition Team and was Deputy General Counsel for the Bush campaign. Prior to joining the campaign, Martin was an advisor to FCC Commissioner Harold Furchtgott-Roth. He has also served in the Office of the Independent Counsel and worked as an associate at the Washington, DC law firm of Wiley Rein LLP. Before joining Wiley Rein, Martin was a judicial clerk for U.S. District Court Judge William M. Hoeveler, Miami, FL.
Martin received a B.A. from the University of North Carolina at Chapel Hill, a Masters in Public Policy from Duke University, and a J.D. from Harvard Law School. He is a member of the District of Columbia Bar and the Federal Communications Bar Association.

About the NAB Radio Show
The NAB Radio Show is the largest annual convention for radio. This year's show, Sep. 17- 19 in Austin, delivers a one-of-a-kind networking opportunity for station professionals representing all format and market sizes and is co-located with the R&R Convention. More information about The NAB Radio Show is available at www.nabradioshow.com.
Online registration is now available for news media reporters interested in covering The NAB Radio Show. Click here for additional information.
About NAB
The National Association of Broadcasters is the premier advocacy association for America's broadcasters. As the voice of more than 8,300 radio and television stations, NAB advances their interests in legislative, regulatory and public affairs. Through advocacy, education and innovation, NAB enables broadcasters to best serve their communities, strengthen their businesses and seize new opportunities in the digital age. Learn more at www.nab.org.
###