FOR IMMEDIATE RELEASE
April 16, 2008
NAB Launches Web Site to Boost Locally-Focused Community Service Initiatives
--'NAB Spot Center' to provide stations with array of public service announcements--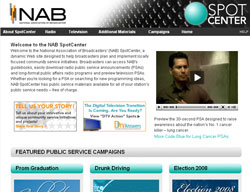 www.NABSpotCenter.com
LAS VEGAS -- NAB announced today the debut of NAB Spot Center, a Web site designed to help broadcasters plan and implement locally-focused community service initiatives. NAB Show attendees will have the opportunity to view the Web site at the Public Service Pavilion for the duration of the NAB Show in Las Vegas.
NAB Spot Center, www.NABSpotCenter.org, provides radio and television stations with public service announcements (PSAs) ranging from the prevention of underage drinking to promoting awareness of the upcoming presidential election.
"Throughout history, radio and television stations have proven to be a valuable partner in a wide array of initiatives aimed at bettering America and our local communities," said NAB President and CEO David K. Rehr. "This new Web site underscores our unrelenting commitment to serving the public interest, convenience and necessity."
A variety of public service resources provided on the Web site allows stations to focus on issues specific to their community. Materials available on the site include:
Downloadable radio PSAs

Preview of TV PSAs (with information on how to obtain a free broadcast-quality copy)

PSAs from nonprofit organizations

Downloadable guidebooks
Attendees interested in learning more about NAB Spot Center and participating nonprofit organizations may visit the Public Service Pavilion located in booth N6132. Additional information about NAB Spot Center services is available at www.NABSpotCenter.org.
About the 2008 NAB Show
The NAB Show will take place April 11 - 17, 2008 in Las Vegas (exhibits open April 14). It is the world's largest electronic media show covering filmed entertainment and the development, management and delivery of content across all mediums. Complete details are available at www.nabshow.com.
About NAB
The National Association of Broadcasters is a trade association that advocates on behalf of more than 8,300 free, local radio and television stations and also broadcast networks before Congress, the Federal Communications Commission and the Courts. Information about NAB can be found at www.nab.org.
###