FOR IMMEDIATE RELEASE
April 8, 2008
CONTACT
Dennis Wharton
202-429-5350

follow me
Broadcasters to Unlicensed Device Proponents: Three Strikes and You're Out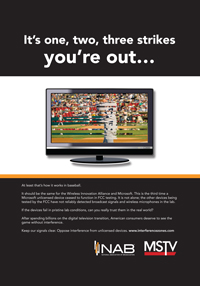 NAB advertisement opposing interference-causing devices (PDF format)
WASHINGTON, D.C. - The National Association of Broadcasters and the Association for Maximum Service Television (MSTV)
today launched a new print advertising campaign to highlight the repeated malfunctions that have resulted during the Federal Communications Commission's testing of unlicensed, personal-portable devices. The advertisements are running in several Capitol Hill publications this week, including Congress Daily, Roll Call, Politico, Congressional Quarterly, Communications Daily and The Hill.
A July 2007 FCC report concluded that sample prototype 'white space' devices did not accurately detect broadcast signals and caused interference to TV broadcasting and wireless microphones. That setback was followed by a February 2008 power failure, in which a Microsoft representative admitted that their prototype device "just stopped working." In March, another Microsoft device "unexpectedly shut down," according to a Microsoft press release.

To date, 70 lawmakers have expressed concern over the use of unlicensed personal-portable devices in the broadcast spectrum, including:
About NAB
The National Association of Broadcasters is a trade association that advocates on behalf of more than 8,300 free, local radio and television stations and also broadcast networks before Congress, the Federal Communications Commission and the Courts. Information about NAB can be found at www.nab.org.
###