FOR IMMEDIATE RELEASE
April 7, 2008
CONTACT
Dennis Wharton
202-429-5350

follow me
Randy Michaels Named to NAB TV Board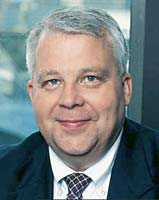 NAB Television Board Member Randy Michaels
WASHINGTON, D.C. - Randy Michaels, executive vice president and CEO of Interactive and Broadcasting for Tribune Company, has been appointed to the NAB Television Board. Michaels, who was appointed by NAB Television Board Chairman Alan Frank, fills the "at large" seat left vacant when Board member Bob Lee of Schurz Communications retired last December.
Michaels joined Tribune in December 2007. Prior to taking the post at Tribune, he was the chief executive for Local TV LLC, a company created through his work with Oak Hill Capital Partners.
Michaels previously served as president and co-COO for Jacor Communications, which owned more than 200 radio and television stations, until its purchase by Clear Channel Communications in 1999. Following Clear Channel's purchase of Jacor, Michaels became president of Clear Channel Radio, where he was later named chairman and CEO.
About NAB
The National Association of Broadcasters is a trade association that advocates on behalf of more than 8,300 free, local radio and television stations and also broadcast networks before Congress, the Federal Communications Commission and the Courts. Information about NAB can be found at www.nab.org.
###