FOR IMMEDIATE RELEASE
April 7, 2008
USTelecom CEO Walter McCormick Jr. to Keynote Telecom2008 at NAB Show
--Content Executives from AT&T and Verizon To Discuss Video Initiatives--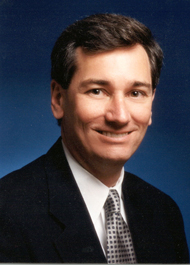 Download hi-resolution photo of Walter McCormick Jr.
WASHINGTON, D.C. - Walter B. McCormick Jr., president and CEO of the United States Telecom Association (USTelecom), will present a keynote at the Telecom2008 conference on Monday, April 14 during the NAB Show. McCormick's keynote, which will outline the state of the broadband industry, will be followed by a discussion with two executives from AT&T and Verizon, who will explore how their companies are bringing the broadband revolution to television, communications and entertainment.
Titled, "State of Broadband: Next Generation Networks and the Future of Entertainment," McCormick's keynote will address high-speed Internet services that are driving innovation in communications, entertainment, health care, education and beyond.
Following McCormick's speech, two of the most influential voices at the intersection of content and communications, Dan York, AT&T executive vice president of programming and Terry Denson, vice president-content strategy and acquisition Verizon, will discuss their respective companies' video initiatives. AT&T and Verizon are investing billions of dollars to build advanced communications infrastructure across the country and to deliver new television services to millions of Americans. The executives will discuss what this means for the broadcasting community and what the future may hold for consumers in a broadband world. The discussion will be moderated by Regina Hopper, executive vice president of USTelecom.
With more than 25 years experience in telecommunications, McCormick joined USTelecom in 2001 and has guided the organization's evolution into one of the top trade associations in the nation's capital. Prior to USTelecom, McCormick served as president & CEO of the American Trucking Associations. His background also includes service as General Counsel of the U.S. Department of Transportation; as General Counsel of the U.S. Senate Committee on Commerce, Science and Transportation; and as a partner with Bryan Cave LLP, an international law firm of more than 500 lawyers, where he headed the practice group on Regulatory Affairs, Public Policy and Legislation.
About the 2008 NAB Show
The NAB Show will take place April 11 - 17, 2008 in Las Vegas (exhibits open April 14). It is the world's largest electronic media show covering filmed entertainment and the development, management and delivery of content across all mediums. Complete details are available at www.nabshow.com.
About NAB
The National Association of Broadcasters is the premier advocacy association for America's broadcasters. As the voice of more than 8,300 radio and television stations, NAB advances their interests in legislative, regulatory and public affairs. Through advocacy, education and innovation, NAB enables broadcasters to best serve their communities, strengthen their businesses and seize new opportunities in the digital age. Learn more at www.nab.org.
###