FOR IMMEDIATE RELEASE
April 1, 2008
Tim Robbins to Deliver Opening Keynote at NAB Show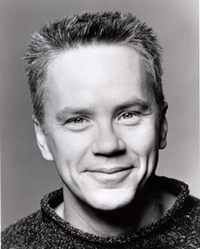 Tim Robbins
WASHINGTON, D.C. - Academy Award-winning actor and critically acclaimed screenwriter, director and producer Tim Robbins will deliver the opening keynote speech on Monday, April 14 at the NAB Show in Las Vegas. During his keynote, Robbins will look at the changing face of entertainment and how new distribution and content creation opportunities will impact Hollywood and other industries.
In addition to discussing his personal and professional experiences as it relates to content, Robbins will also participate in a moderated Q&A. Robbins' keynote will follow NAB President and CEO David K. Rehr's third annual State of the Industry Address.
Other keynote presenters at this year's NAB Show include Jeffrey Katzenberg and Roger Enrico, HP Executive Vice President Todd Bradley, Hulu CEO Jason Kilar, Lost executive producers Carlton Cuse and Damon Lindelof, CSI creator Anthony Zuiker, Pushing Daisies director and executive producer Barry Sonnenfeld, Six Flags President and CEO Mark Shapiro and best-selling author Alvin Toffler.
Robbins has a long list of notable film credits as an actor, director, writer and producer. Key acting roles are in such films as Clint Eastwood's Mystic River, Michael Winterbottom's Code 46, Jonathan Demme's The Truth About Charlie, Michel Gondry's Human Nature, Robert Altman's The Player and Short Cuts, Frank Darabont's The Shawshank Redemption, The Coen Brothers' The Hudsucker Proxy, his own Bob Roberts, Adrian Lyne's Jacob's Ladder and Ron Shelton's Bull Durham.
Robbins has won numerous awards for his acting including an Oscar, Golden Globe and Screen Actors Guild Award as Best Supporting Actor for Mystic River. He won a Best Actor Award at the Cannes Film Festival and the Golden Globe for Best Actor for his role in The Player. He was nominated by the Golden Globes for Best Actor for Bob Roberts and by the Screen Actors Guild for Best Actor for The Shawshank Redemption.
As a director, Robbins distinguished himself with Cradle Will Rock,which he also wrote and produced. Dead Man Walking, was also written and produced by Robbins, won multiple awards including the Humanitas Award and four awards at the Berlin Film Festival, as well as an Oscar nomination for Best Director and a Golden Globe nomination for Best Screenplay.
Robbins also co-founded the Actors' Gang, the highly acclaimed and respected Los Angeles theatre ensemble dedicated to the production of wild, original and provocative theatre.
About the 2008 NAB Show
The NAB Show will take place April 11 - 17, 2008 in Las Vegas (exhibits open April 14). It is the world's largest electronic media show covering filmed entertainment and the development, management and delivery of content across all mediums. Complete details are available at www.nabshow.com.
About NAB
The National Association of Broadcasters is the premier advocacy association for America's broadcasters. As the voice of more than 8,300 radio and television stations, NAB advances their interests in legislative, regulatory and public affairs. Through advocacy, education and innovation, NAB enables broadcasters to best serve their communities, strengthen their businesses and seize new opportunities in the digital age. Learn more at www.nab.org.
###