FOR IMMEDIATE RELEASE
March 17, 2008
Doug Liman to Speak at NAB Show
--"Jumper," "The Bourne Identity" and "Swingers" Director to Discuss the Transformation of "Must See TV"--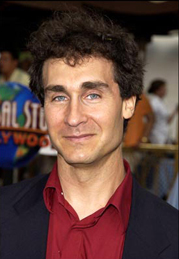 Download photo of Doug Liman
WASHINGTON, D.C. - Director and producer Doug Liman, one of the most vibrant and original voices in American film, will present a keynote address at the 2008 NAB Show on Monday, April 14, in Las Vegas. The keynote, titled "Redefining Must See TV," will address the reality of network programming and what it will take to create the first hit for the Web.
Liman joins Lost executive producers Carlton Cuse and Damon Lindelof, CSI creator Anthony Zuiker, Pushing Daisies director and executive producer Barry Sonnenfeld, Hulu CEO Jason Kilar, Six Flags President and CEO Mark Shapiro, and best-selling author Alvin Toffler as featured speakers during this year's NAB Show.
An inventive filmmaker, Liman directed box-office hits such as Swingers, Mr. & Mrs. Smith, Go, and, most recently, Jumper. Through his company Hypnotic, he produced the Jason Bourne series, and helmed its launch film, The Bourne Identity. Liman also heads up Jackson Bites, a company dedicated to creating TV-style programming for alternative distribution.
Liman produces, markets and distributes film and television content under the Dutch Oven label, and the projects he has shepherded include this year's hit Knight Rider, as well as Heist and The O.C. Liman served as the executive producer for the first season of The O.C. and also directed the hit series' pilot and first episodes.
Liman also produced the extremely successful series of on-line digital shorts Terry Tate Office Linebacker, and has supported the next generation of filmmakers through his involvement with the Chrysler Million Dollar Film Festival and as a producer of Mail Order Wife and Kissing Jessica Stein.
About the 2008 NAB Show
The NAB Show will take place April 11 - 17, 2008 in Las Vegas (exhibits open April 14). It is the world's largest electronic media show covering filmed entertainment and the development, management and delivery of content across all mediums. Complete details are available at www.nabshow.com.
About NAB
The National Association of Broadcasters is a trade association that advocates on behalf of more than 8,300 free, local radio and television stations and also broadcast networks before Congress, the Federal Communications Commission and the Courts. Information about NAB can be found at www.nab.org.
###