FOR IMMEDIATE RELEASE
March 7, 2008
CONTACT
Dennis Wharton
202-429-5350

follow me
Ray Cole Named to NAB Television Board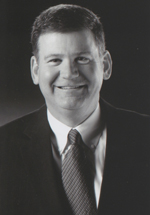 NAB Television Board Member Ray Cole
WASHINGTON, D.C. - Ray Cole, president and chief operating officer of Citadel Communications, has been appointed to the NAB Television Board. Cole, who was appointed by NAB Television Board Chairman Alan Frank, will serve through June 2009.
The Citadel group of television stations includes ABC affiliates WOI-TV Des Moines; KCAU-TV Sioux City, Iowa; KLKN-TV Lincoln, Neb.; and CBS affiliate WHBF-TV Rock Island, Ill.
Cole serves as chairman of the Board of Governors of the ABC Television Affiliates Association. He was first elected to the board in 2004 and was elected chairman in 2006. Cole also serves on the Nielsen Media Research A2/M2 Client Advisory Committee.
Cole is a graduate of Briar Cliff University. In 2006, he was named Briar Cliff's "Distinguished Alumnus of the Year."
About NAB
The National Association of Broadcasters is a trade association that advocates on behalf of more than 8,300 free, local radio and television stations and also broadcast networks before Congress, the Federal Communications Commission and the Courts. Information about NAB can be found at www.nab.org.
###