FOR IMMEDIATE RELEASE
February 12, 2008
Mark Shapiro to Keynote Content Commerce Session at the NAB Show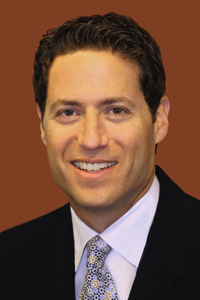 Download hi-resolution photo of Mark Shapiro
WASHINGTON, DC - Mark Shapiro, president and chief executive officer of Six Flags, will present a keynote address on Tuesday, April 15, during the NAB Show in Las Vegas. A veteran of the television industry, Shapiro is currently spearheading Six Flags' acquisition of Dick Clark Productions and the launch of Six Flags Media Networks.
In a keynote entitled From Theme Park to Third Screen, Shapiro is expected to discuss his newest media venture, Six Flags Media Networks. Scheduled to launch in March, the interactive media solution will allow advertisers to reach a captive audience by introducing new content, innovative technologies and experiential marketing opportunities that also serve to enhance the in-park experience for the guest.
Shapiro began working at Six Flags in December of 2005 and has used his extensive experience in brand building, marketing and consumer entertainment to examine new approaches to the distribution of family-friendly content. The acquisition of Dick Clark Productions in June of 2007 brings original content and a new digital media outlet to the Six Flags system of 21 domestic and international theme parks.
Prior to Six Flags, Shapiro worked at ESPN for 12 years, where he was ultimately named executive vice president of programming and production in 2002. In that capacity, Shapiro was responsible for the development, acquisition, scheduling and marketing of all programming for all ESPN channels. He also oversaw all remote and studio production for ESPN's domestic and international television and radio entities. ESPN earned 16 Emmys and two Peabody Awards during his tenure at the network.
In 2001, Shapiro was named one of The Hollywood Reporter's "35 Promising Executives on the Rise" and earned a spot on Entertainment Weekly's annual "101 Most Powerful People in Show Business" in 2003.
Shapiro joins Pushing Daisies director and executive producer Barry Sonnenfeld, CSI creator Anthony Zuiker, and best-selling author Alvin Toffler as featured speakers during this year's NAB Show.
About the 2008 NAB Show
The NAB Show will take place April 11 - 17, 2008 in Las Vegas (exhibits open April 14). It is the world's largest electronic media show covering filmed entertainment and the development, management and delivery of content across all mediums. Complete details are available at www.nabshow.com.
Online registration is now available for news media reporters interested in covering the NAB Show. Click here for additional information.
About NAB
The National Association of Broadcasters is a trade association that advocates on behalf of more than 8,300 free, local radio and television stations and also broadcast networks before Congress, the Federal Communications Commission and the Courts. Information about NAB can be found at www.nab.org.
###