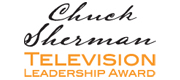 Paul McTear, 2009 Honoree, Chuck Sherman Award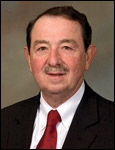 NAB honored Raycom Media President and CEO Paul McTear with the Chuck Sherman Television Leadership Award at the 2009 NAB Small Market Television Exchange. Paul McTear's commitment to community and dedication to local television excellence make him an ideal choice for the Chuck Sherman Award.
McTear joined Raycom Media as the chief financial officer in 1997 before becoming president of the company in 2001. Under McTear's leadership, Raycom Media has grown to 46 television stations in 18 states covering more than 12.6 percent of television households in the U.S.
Prior to joining Raycom Media, McTear served as vice president of finance and corporate development at the Providence Journal Company. During his 20 year tenure, McTear was involved with acquisitions, strategic and financial planning and corporate development. He was also instrumental in the launch of two cable programming networks, the Television Food Network and America's Health Network.
In addition to running Raycom Media, McTear serves on the NAB Television Board of Directors and the NBC Affiliate Board. He heads a Small Market Coalition of broadcasters committed to ensuring the financial stability of small market television. McTear also serves on the board of directors of World Now, Association for Maximum Service Television (MSTV) and My Weather.