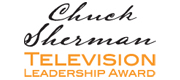 Elizabeth Murphy Burns, 2006 Honoree, Chuck Sherman Award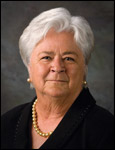 Morgan Murphy Stations President Elizabeth Murphy Burns received the 2006 Chuck Sherman Television Leadership Award.
After attending University of Arizona, Burns immediately entered the field of broadcasting. In 1982 she became vice president of Evening Telegram Company, parent company of Morgan Murphy Stations, which owns WISC-TV Madison; WKBT-TV LaCrosse, WI; KXLY-TV/AM-FM Spokane; KAPP-TV Yakima, WA and KVEW-TV Tri-Cities, WA; and QueenB Radio Madison and Spokane. She was promoted to president in 1999.
Burns has been a pioneer for women in broadcasting, serving as the first woman on the CBS affiliates board and one of the first women on the NAB and TVB boards. Additionally she has championed free press in China and Russia. She has served on the Russian-American Media Entrepreneurship Dialogue, a joint effort by American media outlets designed to bring the expertise and experience of the U.S. media in operating economically independent broadcast and newspaper outlets to their Russian colleagues. In China, Evening Telegram subsidiary RXL Pulitzer developed programming for that country's educational broadcast systems.
She served as chairwoman of the board of the Association for Maximum Service Television (MSTV); and is a director of the Republic Bank in Duluth and of the National Guardian Life Insurance Company in Madison. She is a former member of the board of trustees at the College of St. Scholastica in Duluth. Burns currently serves on the NAB Television Board of Directors after serving an earlier stint in the early 1990s. Burns is also an inductee in the Wisconsin Broadcasters Association Hall of Fame and was awarded the Broadcaster Foundation Pioneer award.