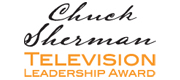 K. James Yager, 2005 Honoree, Chuck Sherman Award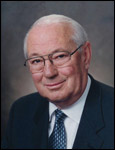 Barrington Broadcasting Chief Executive Officer K. James Yager was honored with the 2005 Chuck Sherman Television Leadership Award oNAB's Small Market Television Exchange.
In acceptance of the award, Yager "would like to thank the NAB for this very special recognition. Chuck Sherman was a friend and mentor to me for many years, so it is especially meaningful to me to receive an award that bears his name. I shared Chuck's commitment to and passion for free, local, over-the-air television and believe in its future as much today as I did when I started work in the industry in 1960."
Yager is chief executive officer of Barrington Broadcasting Company, LLC, of Hoffman Estates, Ill., an organization he formed to manage and acquire small-to-mid market television stations. Barrington Broadcasting Company currently owns and operates six stations including WEYI-TV, Flint-Saginaw Bay, Mich.; WHOI-TV, Peoria, Ill.; KHQA-TV, Quincy, Ill.-Hannibal, Mo.-Koekuk, Iowa; KRCG-TV, Jefferson City, Mo.; KVII-TV Amarillo, Texas and KVIH-TV, Clovis, N.M. Barrington is in the process of acquiring WWMB-TV and WPDE-TV, Myrtle Beach, S.C.
From 1986 to late-2002, Yager led Benedek Broadcasting Corporation as president and COO. Under his leadership, the company aggressively expanded and operated 23 television stations throughout the nation. In October 2002, Benedek merged with Gray Television. Yager was president of Gray MidAmerica Television, a wholly owned subsidiary of Gray Television, until his resignation in April 2003.
Yager is a current member of the NAB Television Board, Broadcast Music Incorporated (BMI) Board, the Television Operators Caucus (TOC), ABC Board of Governors, and the Media Management Center Advisory Board. He is a former member of the Television Bureau of Advertising (TVB) Board, past Chairman of the NBC Affiliates Board, and past Chairman of the NAB Television Board and NAB Joint Board. In addition, Yager has testified before Congress on behalf of NAB on numerous occasions, representing broadcasters' interests on a wide range of issues.