Sharon Kinsman
Senior Vice President
Administration Building Administration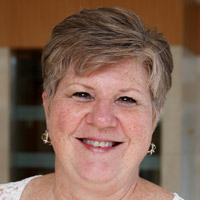 As senior vice president of Administration, Sharon is responsible for managing all physical assets, life safety programs, space planning, facility services and administrative services at NAB's new headquarters at 1 M Street SE and was intimately involved in the planning and design of the new building. Working behind the scenes, she and her staff ensure that NAB employees have the best, safest and most efficient resources in which to deliver timely, quality services to NAB members and guests.
Sharon has been an International Facility Management Association (IFMA) certified facility manager (CFM) since 2005. Sharon received a professional certificate in Facility Management from George Mason University in 2004. Actively involved in the Capital Chapter of IFMA, Sharon previously managed all professional development initiatives and monthly programs in the Washington, D.C. area, serving on the board and executive committee.
A veteran of over 38 years at NAB, Sharon has held myriad positions. She managed the transition in 2005 for the outgoing/incoming presidents, directed television membership activities from 1988 to 1995 and served from 1978 to 1988 in various administrative and grassroots positions in the Government Relations department, including many years as the state association liaison. A native of Rhode Island, Sharon and her husband David have two adult children and live in Arlington, Va.