Michelle Lehman
Executive Vice President Public Affairs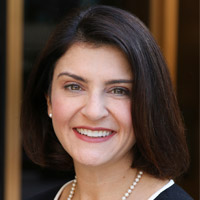 Michelle Lehman joined the National Association of Broadcasters in 2006 and serves as executive vice president of Public Affairs. In this role, Michelle is responsible for advancing the NAB brand before key audiences and implementing public relations, advertising and grassroots campaigns that address specific legislative and business challenges facing the broadcast industry.
The Public Affairs department positively positions NAB and the broadcast industry through strategic communications, media and digital outreach, marketing and research to support NAB's advocacy efforts, events and member-focused initiatives. Prior to joining NAB, Michelle served as vice president of Public Affairs at the National Beer Wholesalers Association. In this capacity, she was chief communications officer, responsible for outreach to media on issues of importance to the beer industry. Additionally, she oversaw production and distribution of the association's publications and public service campaigns, as well as advertising and marketing campaigns focusing on specific advocacy and social issues.
Michelle began her career in Washington, D.C., on Capitol Hill serving as press secretary to Rep. Bob Goodlatte (VA-06). She then served as associate director of technology policy for Dittus Communications, a public relations firm, where she oversaw strategic media relations for clients with the goal of bolstering their public policy initiatives. Michelle returned to Capitol Hill to serve as press secretary to the Senate Governmental Affairs Committee under the leadership of former Sen. Fred Thompson (TN) until his retirement.
Michelle resides in Alexandria, Va., with her husband and three daughters.