Tariq Mondal
Vice President, Advanced Technology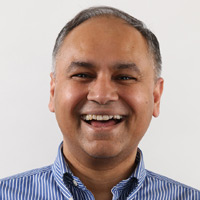 Tariq joined NAB in 2012 as Vice President, Advanced Technology. He evaluates the impact of new technologies on broadcasting industry and represents broadcaster's interests in the technology development.
Prior to joining NAB, Tariq worked in the wireless and satellite industries for over 15 years. He is an expert in digital communications, signal processing, software, simulation, and wireless location technologies.  He managed R&D projects, developed product strategy, and managed the intellectual property portfolios at CommScope and Andrew Corporation. He designed and implemented terrestrial wireless and satellite receivers at Hughes Network Systems.
Tariq holds a Bachelor's degree in electrical engineering from Bangladesh University of Engineering and Technology, a Master's in electrical engineering from Virginia Tech, and an M.B.A. from the University of Maryland. He is the inventor and co-inventor of 12 granted U.S. patents on wireless location technologies.