Susan Keenom
Senior Vice President,
State, International and Board Relations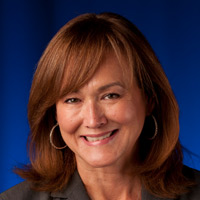 Susan (Sue) Keenom joined NAB in 2009 as the senior vice president of State Associations. In 2011, her role was expanded to include board relations and in 2018, she added international relations to her responsibilities. Sue manages NAB's outreach to the state broadcasters associations and manages logistics for all board meetings and other board-related events. Her international duties include developing and expanding relationships with NAB partners around the world.
Previously, Sue served as executive director of the International Women's Forum Leadership Foundation, where she was responsible for the management and production of the internationally renowned Fellows Program, university partnerships, development, governance, external relations and special projects.
Preceding her time at the International Women's Leadership Forum, Sue served for 12 years on the staff of former United States Sen. Gordon Smith of Oregon, most recently as his director of Administration. Prior to that, she was an assistant vice president for First Interstate Bank of Oregon. She began her professional career with Citicorp in Walnut Creek, Calif., and shortly thereafter moved to New York City where she worked for Citibank. She has a background in program management and administrative management, training, fundraising and event planning.
Sue graduated from the University of the Pacific in Stockton, Calif., with a B.A. in Communications. She is a native of Portland, Ore., and resides in Washington, D.C.