Shermaze Ingram
Senior Vice President, Marketing and Events,
Public Affairs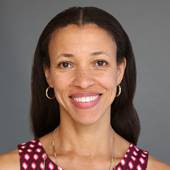 Shermaze Ingram is senior vice president of Marketing and Events and is responsible for developing and executing strategies to enhance the brand of the National Association of Broadcasters, its programs and television and radio broadcasters. In this role, she also oversees marketing campaigns for numerous NAB events, the Radio Show, member benefits and professional development programs.
Shermaze previously served as chief spokesperson and senior director of media relations for NAB's digital television (DTV) transition consumer education campaign, for which she also developed and managed major marketing initiatives, including the industry's consumer website DTVAnswers.com.
Shermaze has an extensive background in media relations, including more than 10 years of experience as a print and broadcast journalist. She began her career in New York at Consumer Reports magazine, where she was awarded a writing fellowship and was later promoted to editor.
She then worked as economics and national affairs reporter for the award-winning PBS program, "The NewsHour with Jim Lehrer." Shermaze also served as communications manager for "The NewsHour" and MacNeil/Lehrer Productions (MLP), and managed publicity for a series of prime-time PBS specials, including live coverage of the 2004 political conventions and presidential election.
Prior to joining NAB, Shermaze was director of communications and events at Discovery Communications, Inc. She earned a bachelor's degree in English Literature from Columbia University and a master's degree from the Columbia University Graduate School of Journalism.