Michael Khatcheressian
Vice President, Media Production
Industry Affairs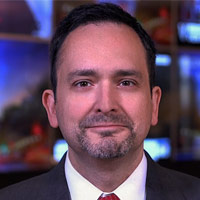 Michael Khatcheressian is an Emmy-winning producer, director and editor. He has over 25 years of experience creating innovative programming for national networks, local broadcast stations, production companies and organizations.
Mike is currently vice president of Media Production for the National Association of Broadcasters (NAB). He produces high-profile video productions, national television spots, online media and live, interactive programming for the organization. He creates original content for NAB's advocacy, education and foundation efforts. Mike also manages the state-of-the-art production facility at NAB's new headquarters.
Throughout his career, Mike has created programming in the genres of news, entertainment, education, reality, documentary, music and public affairs. He has also directed several award-winning short films.
Early on, he created one of the first interactive television programs in the form of a daily, live show aimed at teaching teenagers about technology. The program was funded by the United States Congress and was broadcast nationally.
In addition to his behind-the-scenes work, Mike is an accomplished on-air personality and interviewer. He is also the creator and co-host of one of the longest running podcasts in the world.
Mike lives in Alexandria, Va., with his wife and daughter.