Kelly Williams
Vice President,
Engineering and Technology Policy
Technology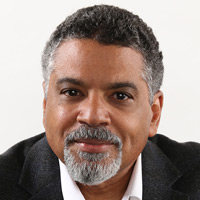 Kelly Williams is the Senior Director of Engineering and Technology Policy in NAB's Technology Department. Kelly joined NAB in 1989. During his tenure he has worked on new technology development and has managed a diverse portfolio of technical, regulatory and legislative issues. Most recently he's focused on matters such as Video Description, IP Captioning and Accessible Emergency Crawls as well as EAS and public alerting.
Kelly represents broadcasters' interests on various industry technology groups and has been appointed to a number of FCC advisory committees, including the Video Programming Accessibility Advisory Committee (VPAAC), the Communications Security Reliability and Interoperability Council (CSRIC), the former EAS Advisory Committee, the Commercial Mobile Services Advisory Committee (CMSAC), and the President's Council on Y2K Conversion. Prior to joining NAB, Kelly worked at WHMM-TV (now WHUT) in Washington D.C.
Kelly has a B.S. in Electrical Engineering from Howard University. He has three grown daughters and resides in Washington, D.C.