Justine McVaney
Senior Vice President and Deputy Managing Director,
Global Connections and Events,
Program Planning and Execution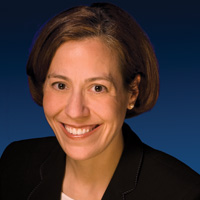 As SVP and Deputy Managing Director of GCE, Justine is responsible for the strategic development and delivery of NAB's annual calendar of conventions. As lead for the department's cross-functional strategy team, she ensures there is alignment and transparency in delivering the department's annual objectives and KPIs. She provides oversight for the operational delivery of all events, including customer service, exhibitor and sponsorship fulfilment and vendor management. Justine delivers this with a clear focus on the department's financial targets and budget.
As deputy managing director Justine leads on developing the department's way of working. She has a clear understanding of the resource capacity and capability required to deliver GCE's annual strategic plan. She leads the implementation of agile processes and procedures, driving efficiencies across the department. Justine works closely with external partners to fill knowledge gaps and support the GCE team in driving innovation and customer satisfaction to deliver departmental objectives.
In 2020, Justine's role was extended further to lead the development of Amplify, the digital home of networking, product discovery and education associated with the NAB Show. She oversees the UX, UI, data analytics and content experience of the platform, which features virtual events, curated editorial and advertorial, newsletters and product showcases. Justine's current focus is the evolution of the digital product to build incremental revenue streams for GCE.
Justine is active in the industry; she is a current member of the IAEE of Board of Directors and is past chair of the MATSO Council. She has a strong interest in the evolution of the events industry and the role of year-round activities to extend the value to both exhibitors and attendees.
Justine is a graduate of the University of Virginia, with a Bachelor of Arts degree in American government.
She resides in Arlington, Va., with her husband Jim and their son James.