Justine McVaney
Senior Vice President and Deputy Managing Director,
Global Connections and Events,
Program Planning and Execution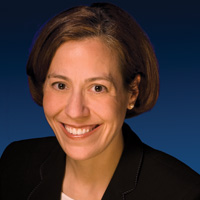 Justine McVaney assumed the position of senior vice president of event planning and operations for the National Association of Broadcasters' Conventions and Business Operations (CBO) department now (GCE) in 2006. In this role, Justine is responsible for all the logistical operations and customer service programs of NAB's conventions. She also oversees the conference education program for the annual spring convention. In 2008, she was given the additional responsibility of overseeing the meetings and conference support services for all of NAB's meetings and events throughout the year.
Justine joined the CBO department in 1994 as registration manager, was promoted to director of attendee services in 1997 and then to senior director of operations in 2001. In 2004, Justine was promoted to vice president for operations and customer relations. From 2000 to 2003 she served on the International Association of Exposition Managers (IAEM) Washington, D.C. Chapter Board of Directors and in 2004 was named one of the Next Generation of Leaders by Tradeshow Week magazine.
Prior to joining NAB, Justine worked for a member of the House of Representatives, the Small Business Administration, a political consulting firm and an association management firm.
Justine is a graduate of the University of Virginia, with a Bachelor of Arts degree in American government.
She resides in Arlington, Va., with her husband Jim and their son James.