Curtis LeGeyt
Chief Operating Officer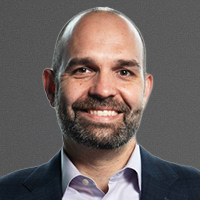 Curtis LeGeyt is chief operating officer of the National Association of Broadcasters. In this role, he is involved in all aspects of NAB's work on behalf of free, local television and radio broadcasters. He previously served as executive vice president of Government Relations before being named to his current position in 2020. Curtis also serves as the general counsel for the NAB Leadership Foundation.
During his time at NAB, Curtis has led several highly successful efforts to advocate for laws that strengthen broadcasters' ability to innovate and serve their communities. This includes permanent reauthorization of the Satellite Television Extension and Localism Act Reauthorization (STELAR), inclusion of $1 billion in RAY BAUM's Act to reimburse stations impacted by the spectrum auction repack, and successful passage of the Music Modernization Act.
Prior to joining NAB, Curtis served as the senior counsel to then-Senate Judiciary Chairman Patrick Leahy (VT). In that role, Curtis advised the chairman and committee on intellectual property, antitrust and First Amendment issues. Previously, Curtis was an associate at Howrey LLP, a law firm in Washington, D.C., where he worked on antitrust litigation and merger reviews. Curtis began his career as a management consultant for Putnam Associates and worked on the staff of the 2008 Obama For America presidential campaign.
Curtis serves on the boards of Tracy's Kids – a nonprofit helping children with cancer – and Musicians On Call, an organization bringing the healing power of music to children's hospitals and beyond. He is also an alumnus of Leadership Music, a Nashville-based program that fosters community and collaboration among music industry leaders.
Curtis received his J.D. from Cornell University Law School and his B.A. from Providence College in quantitative economics. He resides in Alexandria, VA with his wife Kacey and their three children.