Chris Brown
Executive Vice President and Managing Director,
Global Connections and Events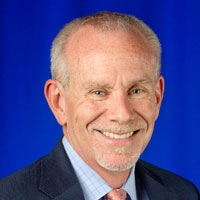 Chris has accumulated over 35 years of experience in the non-profit sector serving various industries by building programs designed to inform, educate, and drive business transactions. Much of his career has been focused on producing large-scale trade shows and events. For the last 20 plus years Chris has served the broadcast and wider media industry by shaping and leading NAB's Global Connections and Events (GCE) Team, which is responsible for serving NAB's membership, and the wider media industry, through creating events, digital products and other services that drive industry innovation and growth. Among the major events produced by the team is NAB Show, NAB's annual convention and the largest annual event in the world covering media and entertainment (900,000 nsf., 1,600 exhibitors, 90,000+ attendees). The team also produces and manages NAB Amplify, a year-round digital hub for the media and entertainment sector.
Chris is an active leader within the live events industry and has served as past chair of the International Association of Exhibition and Events (IAEE; www.iaee.com) and the Center for Exhibition Industry Research (CEIR; www.ceir.org).
Chris holds a BS in Commerce from the University of Virginia and an Executive Masters of General Administration from the University of Maryland University College. He and his wife, Sherry, live in Fairfax, VA and are the proud parents of four amazing children and the proud grandparents of two even more amazing grandchildren.