Cybersecurity: The Next Steps
Overview
2 - 3 p.m. EDT | March 1, 2017
We will take a deeper dive to show how stations and groups can implement a cybersecurity program today to detect, protect and recover from being hacked tomorrow. Learn from your peers, who are already putting plans into place, what that has meant for their security. We will look at the hurdles and benefits of cybersecurity programs, answer common questions and offer best practices for broadcasters.
Moderator:
Kelly Williams, Senior Director, Engineering and Technology Policy, NAB




Panel announcement forthcoming.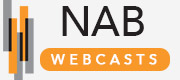 WEBCAST LOG IN
If you have already registered for the webcast, click the button below to log in.
LOG IN TO VIEW WEBCAST
TECHNICAL INFORMATION
NAB makes every effort to deliver high quality streaming video. There are some cases where the stream may not work and you will experience buffering issues. If you experience such issues, click here for technical troubleshooting tips.
It is strongly recommended that participants attempt to log in to the webcast at least 15 to 30 minutes prior to the webcast to test your connection.
For further technical assistance, please contact (202) 775-3510 or jmiely@nab.org.