Five Paths to a Healthier Bottom Line in 2017
Overview
Discover five ways to make a positive impact on your business in 2017 in this fast paced webcast. Topics include sharing the tremendous ROI of radio with your advertisers, cutting operational costs, using Facebook more effectively, adding video to your marketing campaigns and delving into the world of podcasting.
Presenter:
Pierre Bouvard, chief insights officer, Cumulus Media/Westwood One
Presenter:
Steve Goldstein, Founder and CEO, Amplifi Media
Presenter:
Beth Mann, President/CEO, WKDZ Radio
Presenter:
Jennifer Williams, Director of Interactive Marketing, Beasley Media Group
Presenter:
Kim Wilson, president and founder, Social News Desk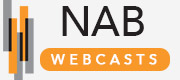 WEBCAST LOG IN
If you have already registered for the webcasts, click the button below to log in.
LOG IN TO VIEW WEBCAST
TECHNICAL INFORMATION
NAB makes every effort to deliver high quality streaming video. There are some cases where the stream may not work and you will experience buffering issues. If you experience such issues, click here for technical troubleshooting tips.
It is strongly recommended that participants attempt to log in to the webcast at least 15 to 30 minutes prior to the webcast to test your connection.
For further technical assistance, please contact (202) 775-3510 or jmiely@nab.org.