Automotive Advancements: The Changing In-car Audio Experience
Overview
Taken from a keynote at the 2016 NAB Show's Digital Strategies Exchange for Radio, learn how connected cars are rapidly changing consumer thinking, the marketplace, and automaker planning as well as how radio can best position itself to succeed in this new environment.
Presenter:
John Ellis, Founder, Managing Director, Ellis & Associates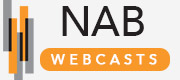 WEBCAST LOG IN
If you have already registered for the webcasts, click the button below to log in.
LOG IN TO VIEW WEBCAST
TECHNICAL INFORMATION
NAB makes every effort to deliver high quality streaming video. There are some cases where the stream may not work and you will experience buffering issues. If you experience such issues, click here for technical troubleshooting tips.
It is strongly recommended that participants attempt to log in to the webcast at least 15 to 30 minutes prior to the webcast to test your connection.
For further technical assistance, please contact (202) 775-3510 or jmiely@nab.org.