NAB Online Leadership Academy
Overview
The NAB Online Leadership Academy is an exclusive, members-only group of multiple online education webcast series designed with your needs in mind. Delivering multiple content offerings, sessions are designed to help further your professional skills and share valuable knowledge from prominent experts and leaders in the broadcast industry.
The NAB Online Leadership Academy was created specifically for our members. From regulatory and legislative updates to successful management principles and technology deep dives, you will pick up the insights and the tools to successfully grow your career and strengthen your business.
The content is easy to navigate and each webcast is accessible from multiple computers at once for convenience. Your station can now view multiple webcasts in our on-demand library.
Click here for details about all seven of the 2015 summer webcasts.
NOT YET A MEMBER?
Receive access to these and other webcasts, free advocacy tools, services, registration discounts and more by becoming a member and helping build a stronger future for the broadcast industry and your business.
Learn more today. Contact NAB Membership or call (202) 429-5400.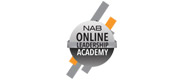 WEBCAST LOG IN
If you have already registered for the webcasts, click the button below to log in.
LOG IN TO VIEW WEBCAST
TECHNICAL INFORMATION
NAB makes every effort to deliver high quality streaming video. There are some cases where the stream may not work and you will experience buffering issues. If you experience such issues, click here for technical troubleshooting tips.
It is strongly recommended that participants attempt to log in to the webcast at least 15 to 30 minutes prior to the webcast to test your connection.
For further technical assistance, please contact (202) 775-3510 or jmiely@nab.org.